Lanark County: Where Olympic athletes grow like trees…
Ian Millar
Show jumper Ian Millar, at 65, was nominated to be part of Canada's equestrian team for London 2012. If he is selected to compete, he will have represented Canada at the Olympics 10 times! The Drummond/North Elmsley Township resident has competed in more Olympic Games than any Canadian in history, in any sport, and shares the world record for the number of Olympic starts with retired Austrian yachtsman Huber Raudaschl. In Beijing in 2008, Millar came home with his first Olympic medal, a team silver, which was the first team show jumping medal Canada had won in 40 years. He has earned more medals in the Pan American Games than any other show jumper and broke new ground at the World Cup of show jumping, where he and his legendary partner, Big Ben, became the first ever rider/horse combination to win back-to-back World Cup Finals.
He and Big Ben appeared in three Olympics, had two gold-medal wins at the Pan American Games, five consecutive top-eight World Cup finishes and more than 40 grand prix victories. A tribute to Millar and the remarkable Big Ben is located in Perth beside Stewart Park – a breathtaking life-sized bronze statue of the duo. Millar is Canada's most decorated equestrian, awarded the Order of Canada in 1986. He and Big Ben were inducted into the Canadian Sports Hall of Fame in 1996, and Millar received an honorary doctorate from the University of Guelph in 2005. Check http://olympic.ca/team-canada/ian-millar and http://www.millarbrookefarm.com to learn more. Related article: https://www.cbc.ca/news/canada/ottawa/equestrian-ian-millar-retiring-international-competition-1.5118408
Mike Brown
One of the best swimmers Canada has ever produced hails from Perth. Mike Brown, was 16 when he won his first national title in the men's open age 200-metre breaststroke. Two years later he qualified for the national team, competing at the 2002 Commonwealth Games and bringing home a bronze. He
broke the Canadian record for the 200-m breaststroke at 18. In 2004 he headed to the Olympic Games in Athens, where he placed sixth in his signature event and 10th in the 4×100-metre medley. A string of successes brought him to the 2008Games in Beijing, where he missed the bronze by a heartbreaking nine one-hundredths of a second in the 200-metre breaststroke. He stepped away from the pool to regroup for a year, before returning to train for the 2012 Games in London. Unfortunately Mike finished fourth at the Olympic trials and was unable to earn a spot on the team for 2012. He has long been a role model for others, serving as an athlete ambassador for Right To Play, a spokesperson for Sport for Life and as a volunteer for youth community programs. He has also delivered motivational speeches to Canada's rising athletes and to corporate and business leaders. Learn more about Mike at http://mikebrown.ca/blog/index.php or http://olympic.ca/team-canada/mike-brown
Sultana Frizell
Ranked first in Canada and fifth in the world, Sultana is primed for bringing home a medal at the Games. In March she smashed her own Canadian record in the hammer throw by almost three metres with a throw of 75.04. Sultana started her athletic career as a figure skater, which prepared her well for the centrifugal expectations of hammer throwing when she switched to the field. She competed in Beijing in 2008, ranking 33rd overall. She is the Commonwealth Record Holder and gold medalist in 2010 and a Worlds finalist in 2009. Sultana attended Perth and District Collegiate Institute, where two other Beijing Olympians from the Perth area were also schooled (Mike Brown and Nick Tritton), and she currently trains in Kamloops, B.C. Learn more at http://sultanafrizell.ca/
Nick Tritton
Nick Tritton competed for the gold in Judo at the 2012 Olympic Games in London. Nick, 22, of Lanark Highlands, is currently ranked overall number one male competitor in Canada and is within the top 10 in the world for the 73-kg weight category. He made his Olympic debut in Beijing in 2008 in this event. He attended Perth & District Collegiate Institute and now trains in Montreal. Nick and his family have left a legacy in their community thanks to the completion of Olympic House on Arthur Street in Perth. The energy-efficient house was a cooperative project between Lan-Arc Design/Build Group and Algonquin College and its advanced housing program. It was designed to be a fundraiser for Nick's Olympic aspirations. Sixty per cent of the proceeds of the sale of the house, which was completed in May, will be distributed to several selected local charities, with the remainder going to Nick to help cover his expenses leading up to the Games. Learn more about Nick at http://olympic.ca/team-canada/nicholastritton or http://www.gonicktritton.com/
John Edwards
John Edwards, currently spends his time paddling the political currents around the Mississippi Mills council table, where he continues to serve as a municipal councillor, but he was also a member of the 1972 and 1976 Canadian Olympic Canoeing Team. He trained at the Carleton Place Canoe Club. At the Summer Games in Montreal in 1976, John ranked 9th in the men's singles 1,000-metre event. He also competed in the doubles. John is also the Domestic Development Director of CanoeKayak Canada and works to develop the sport in Canada. He has served as chair of the ICF Canoeing, which oversees the ICF Paracanoeing program and other environmental and social issues for the organization. He organized the 2008 ICF Montreal conference on Paddlers with a Disability. Learn more about John at http://olympic.ca/team-canada/john-edwards or http://www.sportsreference.com/olympics/athletes/ed/john-edwards-1.html
Perianne Jones
Almonte native Perianne Jones, has been competing in cross-country skiing since 2002, making her
debut Olympic appearance at the Winter Games in Vancouver in 2010 in the women's individual sprint
classic (41st) and 15-km double pursuit (57th) and 4×5 km relay (16th). Perianne finished sixth in the team
sprint at the FIS Nordic World Ski Championships in 2009, 48th in the 10-kilometre and 54th in the
individual event. She placed an impressive 3rd in a team sprint at the World Cup in Milan, Italy in 2012,
and her best individual finish was 19th at a Canadian event in 2009. She currently trains in Canmore,
Alberta with the National Ski Team. Learn more about Perianne at http://olympic.ca/teamcanada/perianne-jones
Heather Ross-McManus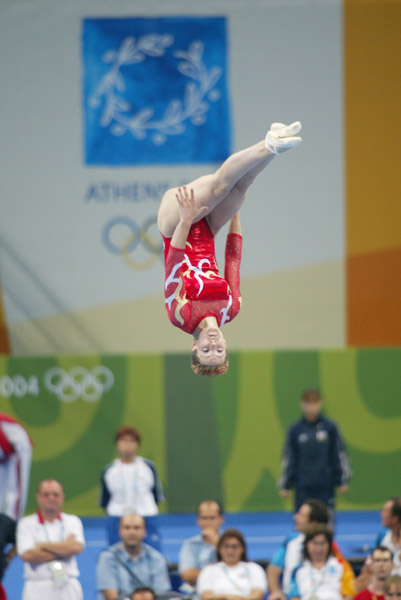 Heather Ross-McManus just couldn't stay away from the trampoline. She represented Canada at
three World Trampoline Championships before retiring from competition in 1993, only to return in 1997
to compete in four more World Championships. She qualified for the Canadian Olympic team in 2004
and headed to Athens, where she finished in 6th place in the individual event. She has an impressive
international record. The Mississippi Mills resident now runs the Spring Action trampoline club in
Ottawa with her husband. Although retired again from competition, she continues to be involved in the
sport as a coach and judge. Learn more at http://olympic.ca/team-canada/heather-ross-mcmanus or
http://www.springaction.ca/Page1021.htm
Ryan Cuthbert
Carleton Place native Ryan Cuthbert, (third from left) competed in the Summer Games in 2004 in Sydney and in Beijing in 2008 in sprint kayak events. His best finish at the Games was in 2004, where he placed 9th in the K-4 1,000m. He is a six-time World Championship team member with a best career finish of 5th in
2002. His first international competition was at the 1997 Junior World Championships in Lahti, Finland. At Beijing he placed 11th in the K-2 1,000-metre. Ryan was one of five national team athletes from the Ottawa area who recently retired from paddling and were recognized at the CanoeKayak Canada annual
general meeting last year. He spent 11 years on the national team. Learn more at http://www.canoekayak.ca/content/athleteretirees_jan2012 and at http://olympic.ca/teamcanada/ryan-cuthbert
Andrew Willows
Carleton Place-area resident Andrew Willows (left), is one of five national team athletes from the Ottawa area who recently retired from paddling after an impressive career, and was recognized at the CanoeKayak Canada annual general meeting. He is a two-time Olympian in sprint kayak, competing at the Summer Games in Sydney in 2004, where he finished 9th in the K-4 1,000 metres and in Beijing in 2008, where he finished 6th in the K-2 500 metres.
He was a silver medallist at the World Championships in 2006. Andrew spent 11 years on the national team. Learn more at
http://olympic.ca/team-canada/andrew-willows or http://www.canoekayak.ca/content/athleteretirees_jan2012
Peter Patasi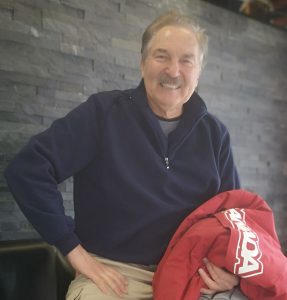 Smiths Falls resident Peter Patasi sees kayaking from a lot of different angles! An active paddler, he
competed in the 1976 Olympics in Montreal in flatwater kayaking in the K-4 1,000 metres. Born in
Bratislava, Slovakia, Peter came to Canada in 1968 and has competed in some form of championship
every year since, with much success in the Masters class in Canada, North America and internationally.
He discovered the potential of carbon fibre in high-performance paddles in 1971 and has been
designing, crafting and improving paddles for top racers around the world ever since with his business
Turbo Strength Paddles. Numerous medal-winning paddlers have endorsed his product, including
Canada's Adam van Koeverden. Peter lived in Carleton Place and paddled for the Carleton Place Canoe
Club, eventually moving to Smiths Falls where he was a high school shop teacher. See
http://www.peterpatasi.com/Home.html for more info.
Kenna Robins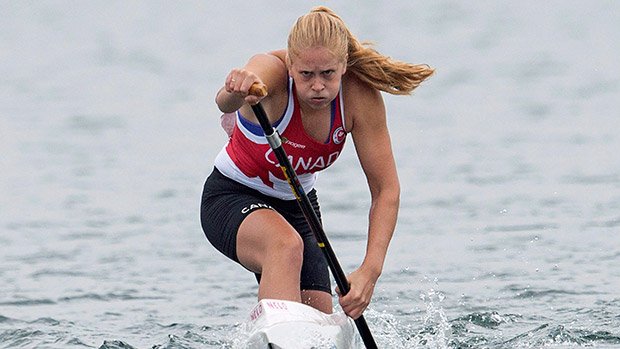 Now a national coach living in Montreal, Kenna Robins was a Carleton Place Canoe Club member in 2003 and travelled to the Summer Games in Beijing in 2008 as a coach. Kenna took up the sport at the Rideau Canoe Club in Ottawa in 1984. She was a member of the 1989 Canada Games team for Ontario and
raced at the Junior World Championships in 1991. She was head coach of the Rideau Canoe Club from 1999 to 2003, helping her club win the Canadian Championships in 2002. She has taken on coaching roles with CanoeKayak Canada. She is coaching several women's kayakers for London 2012. For info,
check http://canoekayak.ca/english/
Graham Barton
Stittsville resident and former Carleton Place Canoe Club Head Coach Graham Barton knows what it
takes behind the scenes to make Olympic dreams come true. He has experience as a national team
athlete, club coach, provincial coach, national development coach and Olympic team coach. In 2010,
Graham was hired to fill the post of summer high-performance advisor for Canada's Own the Podium
organization. Graham has 30 years of coaching experience at all levels with the Canadian sports system.
He is an accomplished canoe coach working with athletes at the national and provincial levels. He was
the high-performance director at CanoeKayak Canada for more than a decade, responsible for the
overall leadership and direction of national team programs that won almost 30 Olympic and World
Championship medals. With his contributions, Canada's sprint canoekayak program consistently ranks in
the top five countries in the world, and the 2004 Summer Olympic Games garnered Canada a third-place global finish. He is playing a key role in helping Canadian athletes to reach to podium this summer. London 2012 will mark Graham's fifth Olympic Games. Check http://ownthepodium.org/About/leadership.aspx for info.